Food & Fire BBQ – Taphouse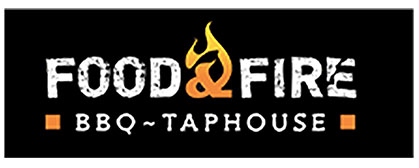 Hours
Monday to Tuesday
3:00 pm - 9:00 pm
Wednesday to Thursday
12:00 pm - 9:00 pm
Friday to Saturday
12:00 pm - 10:00 pm
Sunday
12:00 pm - 8:00 pm

About
The Experience
Food & Fire is the Southern Tier's home for authentic barbecue dining. 40 draft beers in a family-friendly atmosphere.
Food & Fire is the culmination of a dream shared by co-owners Jose Moreira, Dan Polhamus and Jeff Tiderencel, who comprise PTM Hospitality Group, Inc.
Guests will enjoy an upscale-but-comfortable experience in a stylish, fun environment. Food & Fire is dedicated to offering 1) world-class SERVICE, 2) high-quality FOOD, 3) great DRINKS, and 4) a fun ATMOSPHERE. The menu reflects a pronounced focus on authentic, slow-cooked BBQ offerings, including smoked brisket, pulled pork, ribs, and traditional-yet-innovative side dishes.
Food & Fire also features a rotating array of American-style food favorites, including creative appetizers, hand-crafted burgers and sandwiches, salads and soups, and steak, chicken, seafood, and vegetarian entrees.
Although the bar offers a thoughtful wine list and selected liquors and cocktails, the Food & Fire bar/lounge experience is built around featuring one of the area's most expansive craft beer lists, including 40 beers on tap.